International Polymer Solutions Inc. ("IPS") offers superior, custom plastic fabrication services that have successfully met the needs of a wide variety of industries; ranging from pharmaceutical, bio-medical, semiconductor, solar, and aerospace.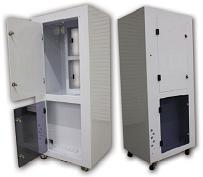 Working with PFA, CPVC, CRP-1, and FM4910 approved materials, we employ a broad array of production methods, including CNC machining, routing and welding to construct unique cabinets, enclosures, process tanks and a wide variety of custom fabricated products.
Configured with live tooling & vacuum chucking capabilities, our large swing CNC and Routing equipment is capability of holding tight machined tolerances (±0.0005").
Utilizing Lean Six Sigma discipline, most cabinet, enclosure and tank projects are completed within four weeks of initial release.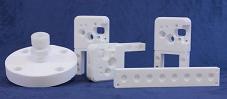 From our build-to-order clean fabrication and assembly process to our standard Fluid Handling catalog product line, at IPS our primary focus is on customer service.
♣ High Purity Plastic Fabrication



•

25 years plastic fabrication experience

•

Full Plastic Machine Shop with CNC Capabilities

•

Large process facility for plastic machining, routing and welding

•

Engineering Support – Solidworks, MasterCAM, CFD and FEA Capabilities

•

In house turnkey design or contract fabrication building to customer specifications

•

Projects:

Tanks, Cabinets, Enclosures, Benches, Plenums, and other High Purity plastic products

•

Stock Material:

PTFE, PFA, TFM, PVDF, Acrylic, Polypropylene, polycarb, PVC and many others
Contract Manufacturing Capabilities include:

Common Materials of Construction include:

Design (Initial through Final)

Development Studies

Short Run Prototyping

Qualification & Performance Testing

Fabrication & Assembly

Welding, Bending, Heat Treating

Routing, Milling & Turning

CNC & Secondary Operations

Threading, Knurling & Grinding

Installation of Thread Inserts

CMM Dimensional Inspection

Sand Blasting & Finish Polishing

Gluing & Solvent Bonding

Laser & Machine Engraving

Ultrasonic Cleaning

2-Bin and KANBAN Capable

Dupont Teflon™

Polytetrafluoroethylene (PTFE)

Perfluoroalkoxy (PFA)

Dyneon™ 1600 (TFM)

Polyvinylidene fluoride (PVDF)

Polypropylene (PP)

Polyetheretherketone (PEEK)

Acetal & Acrylic

High density polyethylene (HDPE)

Nylon & Polycarbonate (PC)

Polyethylene terephthalate (PET)

Phenolic polyester

Phenylene ether co-polymer (PPE)

Polyphenylene sulfide (PPS)

Polystyrene (PS)

Polyurethane (PU)
Call or email us to discuss your fabrication requirements today or complete our IPS Online Web Form and we will get back to you right away. Thank you.