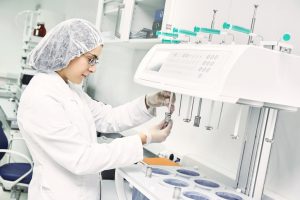 Pharmaceutical research has come a long way over the last few decades. And with it, so have pharmaceutical laboratories and manufacturing facilities. With an increasingly competitive industry, any small improvement in lab processes and manufacturing setups can mean big gains for R&D and eventually, the bottom line. So it's no surprise that modern pharma labs and pharma production facilities are veritable gold mines of high-tech lab equipment designed to improve efficiency and minimize errors.
Despite that, it seems that there are still some kinks in the quality control department to work out. A 2014 study by the US Government Accountability's Office found that the most often cited reason for drug shortages and delays was an issue in quality control in the manufacturing process. In fact, an FDA Staff Report from 2012 showed that weaknesses in sterile injectable drug manufacturing had caused nearly a third of the total biopharmaceutical industry's production capacity to be taken offline. When you're dealing with hundreds of millions in potential drug revenue, that's a huge loss – and one that most pharmaceutical companies can't afford.
For some manufacturing industries, large machinery maintenance plays a major role in minimizing downtime and keeping the manufacturing process rolling. However, for pharmaceutical research and manufacturing, often you're dealing with high purity compounds, where one small malfunctioning piece of equipment can mean losing or contaminating an entire production run.
With these types of pharmaceutical applications, a PTFE diaphragm valve offers a wide range of advantages over the alternatives. One of the biggest advantages being the high cycle life that allows PTFE diaphragm valves to stay functional and in good working conditions much longer than other types of materials. In fact, PTFE offers a few strong advantages when it comes to the diaphragm valve use in the pharmaceutical industry.
Chemical compatibility – A PTFE diaphragm valve has a high chemical compatibility, meaning it can work with and safely stand up to a wide variety of chemicals and chemical compounds. In pharmaceutical applications, this means that PTFE diaphragm valves are incredibly versatile and and can be used for many different tests, experiments, and manufacturing processes.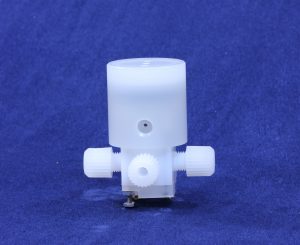 Low friction properties – PTFE has a low coefficient of friction, which makes it an ideal choice when you're trying to avoid unnecessary wear and tear in a pharmaceutical manufacturing setup. This can result in a much lower part replacement costs and less downtime due to maintenance.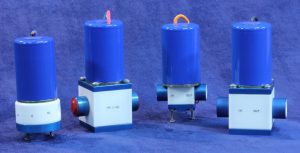 Low surface adhesion – While other materials can create issues when it comes to surface adhesion, PTFE has a low surface adhesion which means that when pharma researchers are working with pills or powders, it doesn't stick to the materials. And when working with liquids, it minimizes coagulation.
These advantages might seem small, but over time they can result in large improvements and some pretty strong bottom line business results, such as improvements in value life, an increase in production yield, and cost savings over time, as PTFE is a much more cost-effective material compared to most metals. And in the competitive world of pharmaceutical research and manufacturing, those small gains can add up to big wins for your company.